In the News - Michigan's Top Ranking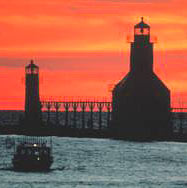 Michigan recently captured the top ranking in Summer recreation: "Best Boating State" from BoatingLife Magazine.
Michigan was chosen by BoatingLife Magazine because residents are never more than 85 miles from one of four Great Lakes, and six miles from a boatable lake or river. Certainly in Southwest Michigan, we all know this to be true!

In addition, Michigan boaters enjoy 1,300 public access sites and there are approximately 11,000 lakes in the State!
The boaters of Michigan obviously agree! With more than one million boats on record, Michigan has more registered boats than any other state.
Word is getting out that Michigan has some of the most spectacular, clean and breathtaking boating areas in the United States.

We encourage you to take advantage of the water related activities within the State, and within Southwest Michigan in particular!
---
For more information, try some of our "Water" related links:
To learn how you can submit an article to the SWMI Directory, click here.