In the News - Benefits of Shopping Locally
Article submitted by Berrien County Economic Development Dept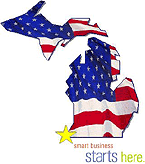 Shopping Locally Keeps Towns Alive and Vibrant
Why shop local?
Shopping locally keeps your favorite shops in business and supports the overall local economy. That is good news for the entire community as we strive to develop a climate in which businesses can create jobs and operate at a profit.
Shopping Locally Can:
Increase the tax base. This translates into infrastructure projects such as water treatment, sewer drainage systems, utilities, libraries, recreation centers, open space, parks, and road improvements, Police, Fire and EMS. An ever-improving quality of life and safer communities with these services combined with the added employment from providing such important services.

Creates a more diversified job base with a higher wage structure -- essential for a decent quality of life, providing a stable labor force for the retail/service sector.

Receive more attentive, personal service.
The overall message is to take pride in your community -- by spending locally.
As the saying goes: "Use it or lose it." If we, as a community, fail to actively support our local businesses, they may go out of business and thereby reduce the tax base and increase the unemployment rate. This ultimately will have a negative impact on our entire community and can lessen our quality of life.
Bolstering the local economy is perhaps more important than ever this year in light of the budget shortfalls recently announced in many of our communities as well as at the State level.
Ideas To Help People Shop Locally
Shopping breaks down into 3 factors: Price, Selection and Convenience. Making sure that you, as the merchant, address these 3 factors can improve your competitiveness.
Areas of Focus:
Promote a day to shop at home in order for area residents to realize how important the local retailers are.

Encourage referrals from local businesses to other local businesses.

Business-to-business transactions can spur future retail/commercial growth.

Develop a community spirit where residents are proud to call their respective community home.

Merchants should know who their clients are - the age and demographics. Typically longtime residents have many social and business relationships that will affect their shopping behavior. Consumers who have a high level of involvement with friends and acquaintances or who are active in community organizations are more likely to shop locally.

Appeal to the social side of business -- offer a free trinket or candy, even coffee to shoppers. These seemingly small steps can put customers at ease, making them feel comfortable spending their hard-earned dollars at your business.

Keep items current. Identify slow moving items and mark them down to make way for new inventory.

Provide improved customer service by showing expertise and knowledge about the products carried.

Contribute time, money or talent to local organizations. People appreciate this and will want to thank you by shopping in your store. They drive on the same streets as you do and send their children to the same schools. Lead by example.
Studies have shown that residents do shop locally at least once a week for essential items, such as gas, milk, and bread, things that people use on a daily basis.
Excuses to Shop Elsewhere:
Parking -- namely the lack of it.

Limited hours of operation. Have extended hours for at least two days a week and/or that the business is open on weekends.
What it Really Costs to Shop Elsewhere:
Wear and tear on your vehicle.

Cost of fuel.

Time -- if you have children who are active in sports or extracurricular activities there is no time to travel 45+ minutes, often each way, to shop outside your local community.
The Holiday Season Challenge
The holiday season, for many local merchants, is the time they count on most for their annual profits. When making your gift list, for all of your friends and family that you buy gifts, challenge yourself to shop local -- exclusively, this year. I bet that you will be amazed by the small amount of names, if any, that are left to shop for when the holidays approach thanks to the many diverse, locally owned, businesses here in Michigan's Great Southwest.
Berrien County offers an abundant number of small and emerging businesses that provide quality products, personal attention, and excellent service.
For Additional Information
To learn more about the benefits and the importance of shopping locally:
Berrien County Economic Development
701 Main Street, St. Joseph, MI 49085

Office: (269) 983-7111 ext. 8786
Website: http://www.berriencounty.org
---
For more information, visit Berrien County Economic Development listed on our Economic Development page.
To learn how you can submit an article to the SWMI Directory, click here.