In the News - Is your Website "Catching" enough?
Help your Business GROW in 2017 and BEYOND!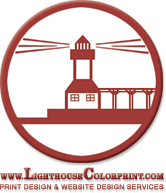 Affordable print design and web design services are available from www.LighthouseColorprint.com of St. Joseph, Michigan. We design a variety of effective, yet affordable business products in Southwest Michigan: post cards, brochures, business cards, websites and more.
PRINT DESIGN: Are you looking for help designing a new Business Card, Brochure, Letterhead, etc.? Put our many years of experience to work for you!
WEBSITE DESIGN: Are you looking to begin a site or re-invent one? We design, consult, & "tweak". Many have seen their web visitors double!
CURRENT SPECIAL: You'll receive SIX MONTHS of FREE Website Hosting & Email when you refer a friend that becomes a new client!
Our national efforts can help you locally!
---
For more information, visit www.LighthouseColorprint.com listed on our Advertising and Website Design page.
To learn how you can submit an article to the SWMI Directory, click here.