Welcome to the Award Winning Southwest Michigan Business & Tourism Directory
In the News - Drier's Meat Market, celebrating 104 YEARS in Three Oaks!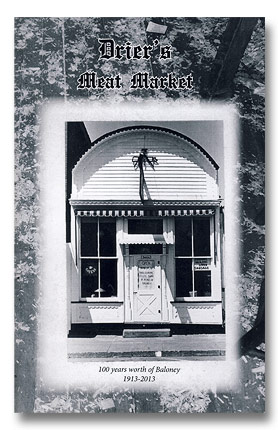 What do the names Carl Sandburg, Larry Hagman, Mayor Daley of Chicago, the Hormel Family, Roger Ebert, Neiman Marcus, and countless others have in common? None other than the Drier's Meat Market in Three Oaks, Michigan.
104 Years in the Making! 45+ pages ... 150+ photos ... Combined with the remarkable history of an iconic Three Oaks Landmark: Drier's Meat Market. Get your copy today! SUPPLIES ARE LIMITED!
---
For more information, visit www.Driers.com listed on our Butcher Shop page.
To learn how you can submit an article to the SWMI Directory, click here.
Are you looking for business, commercial, farming, or recreational links to Southwest Michigan? Then you've come to the right place: Southwest Michigan Business & Tourism Directory!
"From Accommodations to Yacht Clubs,
Southwest Michigan has much to offer."
Blessed with many business and tourist attractions, Southwest Michigan is the ideal vacation destination to enjoy art, boating, golf, nature, swimming as well as a wonderful area to call "Home".
The communities of SW Michigan have much to offer; businesses, schools, and services that are first class. In fact, Smart Money Magazine once named SW Michigan (specifically the Paw Paw Lakes region) as one of the best areas in America to buy a second home. Residents are friendly, warm and enthusiastically welcome newcomers to the area.
If you are visiting Southwest Michigan ... we wish you a safe, enjoyable stay and hope that you come again. If you are planning to join us ... we welcome you and know that you will enjoy the area as much as we do. To those of you who already live and work in SW Michigan ... aren't we lucky?
Thank you for your interest in Southwest Michigan!